A growing open source Twitter dashboard
Since the v0.2, the self-hostable Twitter dashboard KoalasLiveTweet can now do a little more. I got delayed in the development of this version 0.3, but I'm glad to see the application now performing as a minimal Twitter dashboard.
Previously we could only track hashtags and see the tweets containing the hashtag being displayed. Now, KoalasLiveTweet displays the user's timeline and its lists. Yes, I know, compared to other applications such as Hootsuite they are still not a lot of features. However, I'm already using it as a replacement of what I used before. Only for writing tweets, I have to open the Twitter website.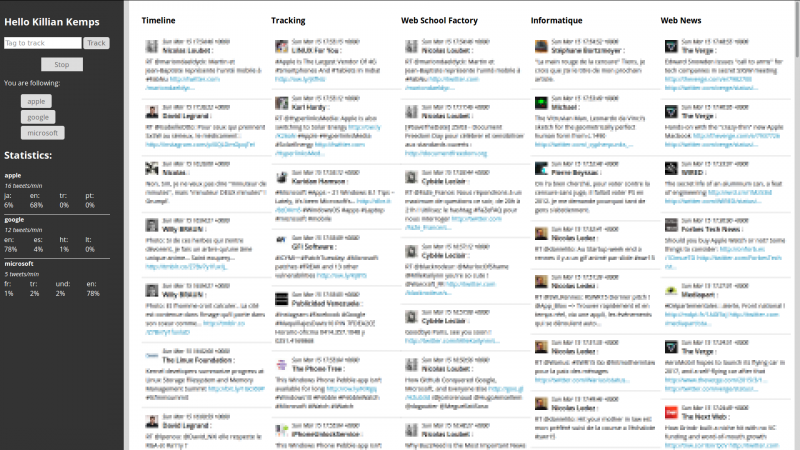 Now they are much more columns than in the last version
Qowala live v0.3 functionalities:
Multi-client with Twitter authentication
Display user's timeline
Display all user's lists
Track tweets according hashtags
See tweets statistics : number of tweets per min and proportion of tweets languages
Stop and play the stream
Now, @AdrienTou has joined the team as a designer to give a new shape to the application. We began by changing its name to Qowala live because KoalasLiveTweet was obviously too long and we are preparing a big evolution for the next version. We are going to redesign the dashboard interface and to give a real identity to the service. Little Qowala will become big!
As usual, you can access the code source and see the installation instructions at its Github page.
What do you wish to see in Qowala live?